Janos Pasztor
Session Overview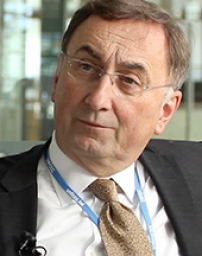 Senior Fellow, Carnegie Council for Ethics in International Affairs
Executive Director, Carnegie Climate Governance Initiative
Janos Pasztor is a Senior Fellow at the Carnegie Council for Ethics in International Affairs and Executive Director of the Carnegie Climate Governance Initiative (C2G). He has over 35 years of work experience in the areas of energy, environment, climate change, and sustainable development. Before taking up his current assignment he was UN assistant secretary-general for climate change in New York under Secretary-General Ban Ki-moon. Earlier, he was acting executive director for conservation (2014) and policy and science director (2012-2014) at WWF International. He directed the UNSG's Climate Change Support Team (2008-2010) and later was executive secretary of the UNSG's High-level Panel on Global Sustainability (2010-2012). In 2007 he directed the Geneva-based UN Environment Management Group (EMG). During 1993-2006 he worked, and over time held many responsibilities at the Climate Change Secretariat (UNFCCC), initially in Geneva and later in Bonn. His other assignments included: in the Secretariat of the 1992 UN Conference on Environment and Development (Earth Summit '92); Stockholm Environment Institute; United Nations Environment Programme (UNEP); Secretariat of the World Commission on Environment and Development (Brundtland Commission); the Beijer Institute; and the World Council of Churches.
ADMISSIONS TO BEGIN FEBRUARY 2024
LEARN ABOUT SEMINAR XXI
Hear past and present organizers reflect on over 25 years of the Seminar XXI Program and its impact on the national security policy community.
CONNECT WITH MIT
See the latest news and upcoming events within the MIT Center for International Studies community.