Chikako Kawakatsu Ueki
Session Overview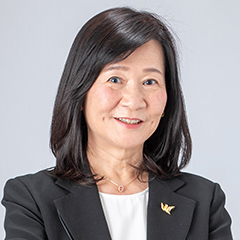 Professor of International Relations, Waseda University
Research Affiliate, MIT
Dr. Chikako Kawakatsu Ueki is Professor of International Relations at the Graduate School of Asia-Pacific Studies (GSAPS) at Waseda University and currently a research affiliate at MIT. She teaches "International Security" and "International Relations and Security in East Asia." She served as a member of the Prime Minister's Council on Security and Defense Capabilities in 2009. Her areas of expertise include causes and prevention of war and East Asian international relations with a special focus on U.S.-Japan-China relations. She has written extensively on issues concerning threat perception in a unipolar world, transformation of international relations after the Cold War, and issues relating to security problems in East Asia. At Waseda University, she leads a program on Political Integration at the Global Institute for Asian Regional Integration (GIARI), and research projects on Security Studies at the Institute for Asia-Pacific Studies (WIASP) and at the Organization for Japan-U.S. Studies (WOJUSS). Her works include: "Repairing the Strategic Safety-Net: Security and Interdependence in East Asia" (2006); "Strategy, Military Power and Security — Senryaku, Gunjiryoku, Anzenhosho" in Access Anzenhoshoron (2005); "International Structural Change and U.S.-Japan-China Relations: The Importance of 'Liberal Deterrence' Policy, " International Affairs (2009); and "Nationalism as a Cause of War: The Case of the Crimean War" (1998). Prior to joining GSAPS, Dr. Ueki was Senior Research Fellow and Professor at the National Institute for Defense Studies, which is the main research arm of the Japan Ministry of Defense. During her appointment at NIDS, she was the main author of the China chapters in the NIDS annual publication: East Asian Strategic Review and reports on strategic assessments.
ADMISSIONS TO BEGIN FEBRUARY 2024
LEARN ABOUT SEMINAR XXI
Hear past and present organizers reflect on over 25 years of the Seminar XXI Program and its impact on the national security policy community.
CONNECT WITH MIT
See the latest news and upcoming events within the MIT Center for International Studies community.