Gregory Gause
Session Overview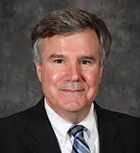 Professor of International Affairs, Bush School of Government and Public Service, Texas A&M University
F. Gregory Gause, III is the John H. Lindsey '44 Chair, professor of international affairs and head of the International Affairs Department at the Bush School of Government and Public Service, Texas A&M University. He is the author of three books and numerous articles on the politics of the Middle East, with a particular focus on the Arabian Peninsula and the Persian Gulf. He was previously on the faculties of the University of Vermont (1995-2014) and Columbia University (1987-1995), and was Fellow for Arab and Islamic Studies at the Council on Foreign Relations in New York (1993-1994). During the 2009-10 academic year he was Kuwait Foundation Visiting Professor of International Affairs at the Kennedy School of Government, Harvard University. In spring 2009 he was a Fulbright Scholar at the American University in Kuwait. In spring 2010 he was a research fellow at the King Faisal Center for Islamic Studies and Research in Riyadh, Saudi Arabia. He has published three books, most recently The International Relations of the Persian Gulf. His articles have appeared in Foreign Affairs, Foreign Policy, Middle East Journal, Security Studies, Washington Quarterly, National Interest, and in other journals and edited volumes.
ADMISSIONS TO BEGIN FEBRUARY 2024
LEARN ABOUT SEMINAR XXI
Hear past and present organizers reflect on over 25 years of the Seminar XXI Program and its impact on the national security policy community.
CONNECT WITH MIT
See the latest news and upcoming events within the MIT Center for International Studies community.