Andrey Kortunov
Session Overview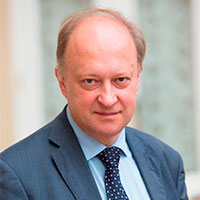 Director General, Russian International Affairs Council
Dr. Andrey Kortunov is the Director General of the Russian International Affairs Council. Dr. Kortunov previously served as Deputy Director of the Institute for US and Canadian Studies. He was founder and first president of the Moscow Public Science Foundation. He has taught Russian foreign policy at the University Of Miami and at the Lewis & Clark College in Portland (University of California). In 2011, he was elected Director General of the Russian International Affairs Council non-profit partnership established by order of the President of the Russian Federation. His academic focus is international relations, foreign and domestic policy of Russia and Russian-American relations. Dr. Kortunov is the author of over 120 publications dedicated to the analysis of Soviet/Russian-American relations, global security, and the foreign and domestic policy of the USSR and Russia. His major recent publications include Russia and UN Reforms, and Disintegration of the Soviet Union and US Policies.
ADMISSIONS TO BEGIN FEBRUARY 2024
LEARN ABOUT SEMINAR XXI
Hear past and present organizers reflect on over 25 years of the Seminar XXI Program and its impact on the national security policy community.
CONNECT WITH MIT
See the latest news and upcoming events within the MIT Center for International Studies community.