Kenneth Pollack
Session Overview
Resident Scholar, American Enterprise Institute
Kenneth M. Pollack is a resident scholar at the American Enterprise Institute (AEI), where he works on Middle Eastern political-military affairs, focusing in particular on Iran, Iraq, Saudi Arabia, and the Gulf countries. Before joining AEI, Dr. Pollack was affiliated with the Brookings Institution, where he was a senior fellow at the Saban Center for Middle East Policy. Before that, he was the center's director and director of research. Dr. Pollack served twice at the National Security Council, first as director for Near East and South Asian affairs and then as director for Persian Gulf affairs. He began his career as a Persian Gulf military analyst at the CIA, where he was the principal author of the CIA's classified postmortem on Iraqi strategy and military operations during the Persian Gulf War. Among other recognitions, he was awarded the CIA's Exceptional Performance Award twice and the Certificate of Distinction for Outstanding Performance of Duty, both for work on the Persian Gulf War. He has also worked on long-term issues related to Middle Eastern political and military affairs for the Joint Chiefs of Staff when he was a senior research professor at the Institute for National Security Studies at National Defense University. Dr. Pollack is the author of 10 books, including Armies of Sand: The Past, Present, and Future of Arab Military Effectiveness ; Unthinkable: Iran, the Bomb, and American Strategy ; A Path out of the Desert: A Grand Strategy for America in the Middle East ; The Persian Puzzle: The Conflict Between Iran and America ; and The Threatening Storm: The Case for Invading Iraq. Dr. Pollack is the author of numerous articles and has been published in The Washington Post, The Wall Street Journal, The New York Times, Foreign Affairs, and The Atlantic, among others.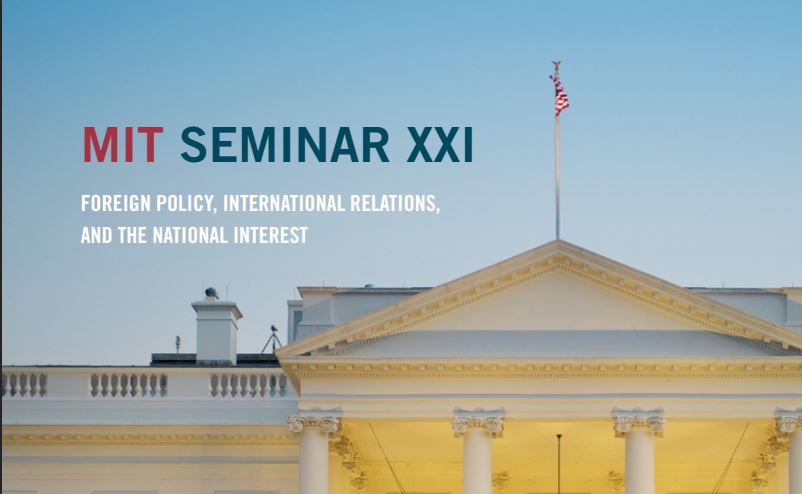 2019-20 ADMISSIONS WILL START FEBRUARY 2019
Download Admission Brochure PDF >
Email brochure to a friend >
2019 INTRODUCTORY SESSION & ALUMNI REUNION
All Seminar XXI Fellows & Alumni are invited to attend our opening session on Wednesday, Sept. 4, 2019. This year's event will feature a discussion on "The Weaponization of Social Media" by guest speaker, Peter W. Singer.
JOIN THE MIT DC CLUB

Sign up for year-round special events.
Become a member >
JOIN OUR LINKEDIN NETWORK
Seminar XXI Linkedin >