Sumit Ganguly
Session Overview

Professor of Political Science, Indiana University, Bloomington
Sumit Ganguly is a Distinguished Professor of Political Science, holds the Rabindranath Tagore Chair in Indian Cultures and Civilizations and directs the Center on American and Global Security at Indiana University, Bloomington. A specialist on the international and comparative politics of South Asia he has previously taught at James Madison College of Michigan State University, at Hunter College of the City University of New York, the School of Public and International Affairs at Columbia University and the University of Texas at Austin. In the spring quarter of 2014 he was the Visiting Buffet Professor of International Studies at Northwestern University. He has also been a Fellow and a Guest Scholar at the Woodrow Wilson International Center for Scholars in Washington, DC; and a Visiting Fellow at the Center on International Security and Cooperation as well as the Center on Democracy, Development and the Rule of Law at Stanford University. In 2010 he was a Distinguished Visiting Fellow at the Institute of Defense Studies and Analysis in New Delhi. Professor Ganguly is the author, co-author, editor or co-editor of twenty books on the contemporary domestic and international politics of South Asia. He currently serves on the editorial boards of Asian Security, Current History, The India Review, International Security, Journal of Democracy, The Nonproliferation Review and Pacific Affairs. Professor Ganguly is also an Associate Editor of International Security. He is a member of the Council on Foreign Relations (New York) and a Senior Fellow at the Foreign Policy Research Institute in Philadelphia. He also served as an Alexander von Humboldt Research Fellow at the University of Heidelberg, Germany for 2018-2019. His recent publications include How Rivalries End; Deadly Impasse: India and Pakistan at the Dawn of a New Century; and Ascending India and Its State Capacity to be published in 2017.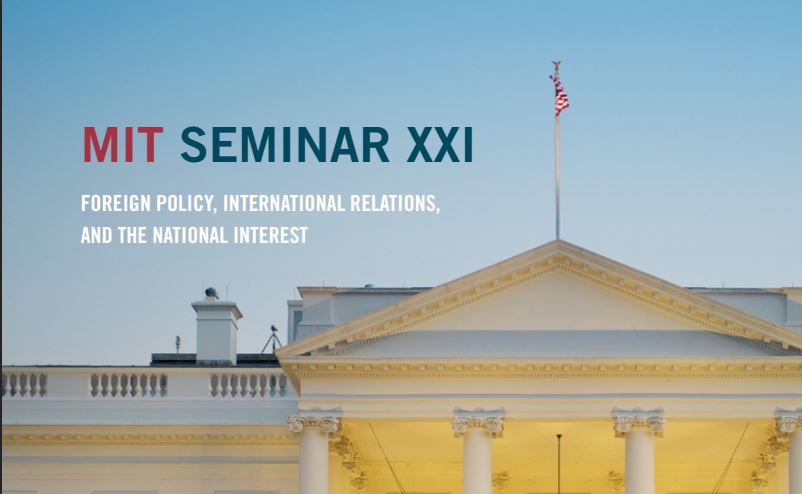 2019-20 ADMISSIONS WILL START FEBRUARY 2019
Download Admission Brochure PDF >
Email brochure to a friend >
2019 INTRODUCTORY SESSION & ALUMNI REUNION
All Seminar XXI Fellows & Alumni are invited to attend our opening session on Wednesday, Sept. 4, 2019. This year's event will feature a discussion on "The Weaponization of Social Media" by guest speaker, Peter W. Singer.
JOIN THE MIT DC CLUB

Sign up for year-round special events.
Become a member >
JOIN OUR LINKEDIN NETWORK
Seminar XXI Linkedin >