Richard Samuels
Session Overview
Director, Center for International Studies, MIT
Ford International Professor of Political Science, MIT
Richard Samuels is Ford International Professor of Political Science and director of the Center for International Studies at the Massachusetts Institute of Technology. He has been head of the MIT Political Science Department, Vice-Chair of the Committee on Japan of the National Research Council, and chair of the Japan-US Friendship Commission. He has also been elected to the American Academy of Arts & Sciences and was awarded an Imperial decoration, the Order of the Rising Sun, Gold and Silver Star by the Emperor of Japan and the Japanese Prime Minister. His study of the political and policy consequences of the 2011 Tohoku catastrophe, 3:11: Disaster and Change in Japan, was published by Cornell University Press in 2013.  Samuels' Securing Japan: Tokyo's Grand Strategy and the Future of East Asia, was a finalist for the Lionel Gelber Prize for the best book in international affairs in 2007. Machiavelli's Children won the Marraro Prize from the Society for Italian Historical Studies and the Jervis-Schroeder Prize from the International History and Politics section of American Political Science Association. Earlier books were awarded prizes from the Association for Asian Studies, the Association of American University Press, and the Ohira Memorial Foundation. His articles have appeared in Foreign Affairs, International Security, Political Science Quarterly, International Organization, Journal of Modern Italian Studies, The National Interest, Journal of Japanese Studies, and Daedalus. In 2014 he was appointed Einstein Visiting Fellow at the Free University of Berlin, where he directs a research group on East Asian Security during the summer.  His history of the Japanese intelligence community, Special Duty, will be published by Cornell University Press and in Japanese translation by Nikkei Publication in 2019.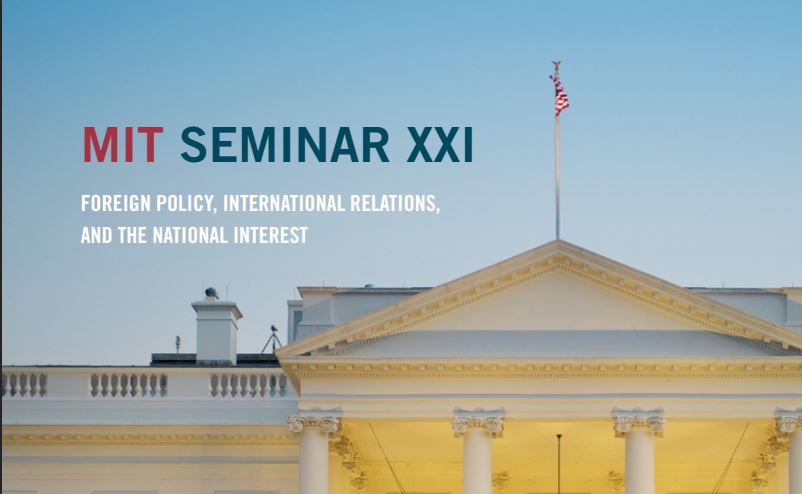 2019-20 ADMISSIONS WILL START FEBRUARY 2019
Download Admission Brochure PDF >
Email brochure to a friend >
2018–2019 SESSIONS
This year's sessions begin with an introduction from Professor Thomas Christensen and move into a range of topics that include Religion, Identity Politics and Civil Wars; Iran, Turkey, and Israel; Biosecurity and Cybersecurity; National Economies in a Globalized World; and more.
JOIN THE MIT DC CLUB

Sign up for year-round special events.
Become a member >
JOIN OUR LINKEDIN NETWORK
Seminar XXI Linkedin >