Rawi Abdelal
Session Overview
Herbert F. Johnson Professor of International Management, Harvard Business School
Director, Davis Center for Russian and Eurasian Studies
Rawi Abdelal is the Herbert F. Johnson Professor of International Management at Harvard Business School and is the Director of the Davis Center for Russian and Eurasian Studies. His primary expertise is international political economy, and his research focuses on the politics of globalization and the political economy of Eurasia. Professor Abdelal is a faculty associate of Harvard's Weatherhead Center for International Affairs and de Gunzburg Center for European Studies, and he serves on the executive committee of the Davis Center. Professor Abdelal's first book, National Purpose in the World Economy, won the 2002 Shulman Prize as the outstanding book on the international relations of eastern Europe and the former Soviet Union. Abdelal's second book, Capital Rules, explains the evolution of the social norms and legal rules of the international financial system. Abdelal has also edited or co-edited three books: The Rules of Globalization, a collection of Harvard Business School cases on international business; Measuring Identity; and Constructing the International Economy. Abdelal is currently at work on The Profits of Power, a book that explores the geopolitics of energy in Europe and Eurasia.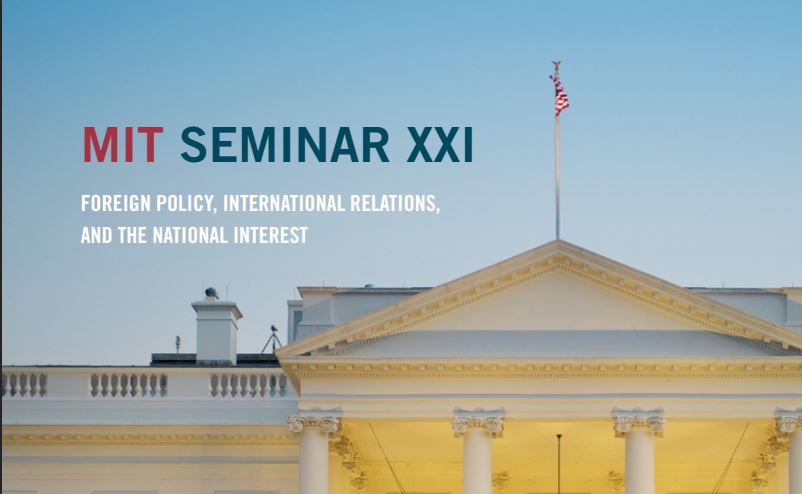 2019-20 ADMISSIONS WILL START FEBRUARY 2019
Download Admission Brochure PDF >
Email brochure to a friend >
2018–2019 SESSIONS
This year's sessions begin with an introduction from Professor Thomas Christensen and move into a range of topics that include Religion, Identity Politics and Civil Wars; Iran, Turkey, and Israel; Biosecurity and Cybersecurity; National Economies in a Globalized World; and more.
JOIN THE MIT DC CLUB

Sign up for year-round special events.
Become a member >
JOIN OUR LINKEDIN NETWORK
Seminar XXI Linkedin >