Jomo Kwame Sundaram
Session Overview
Tun Hussein Onn Chair in International Studies, Institute of Strategic & International Studies Malaysia
Dr. Jomo Kwame Sundaram is the Tun Hussein Onn Chair in International Studies for the period 2016-2017 at the Institute of Strategic and International Studies Malaysia. Jomo has been Assistant Director General and Coordinator for Economic and Social Development (ADG-ES), Food and Agriculture Organization of the United Nations since August 2012. He was Assistant Secretary General for Economic Development in the United Nations' Department of Economic and Social Affairs from January 2005 until June 2012, and Honorary Research Coordinator for the G24 Intergovernmental Group on International Monetary Affairs and Development from December 2006 until September 2012. In 2007, he was awarded the Wassily Leontief Prize for Advancing the Frontiers of Economic Thought. He has authored and edited over a hundred books and translated 12 volumes besides writing many academic papers and articles for the media. Jomo was Professor in the Applied Economics Department, Faculty of Economics and Administration, University of Malaya until November 2004, Founder Director (1978-2004) of the Institute of Social Analysis and Founder Chair (2001-2004) of IDEAs, International Development Economics Associates; he now serves on its Advisory Panel. He was also on the Board of the United Nations Research Institute on Social Development, Geneva. During 2008-2009, Jomo served as adviser to Father Miguel d'Escoto, the President of the 63rd United Nations General Assembly, and as a member of the Stiglitz Commission of Experts of the President of the United Nations General Assembly on Reforms of the International Monetary and Financial System. During 2010-2012, he was G20 sherpa to UN Secretary-General Ban Ki-moon, and also UN G20 Finance Deputy during 2011-2012. He has taught at Science University of Malaysia (USM, 1974), Harvard (1974-1975), Yale (1977), National University of Malaysia (UKM, 1977-1982), University of Malaya (1982-2004), and Cornell (1993). He has also been a Visiting Fellow at Cambridge University (1987-1988; 1991-1992) and a Senior Research Fellow at the Asia Research Institute, National University of Singapore (2004).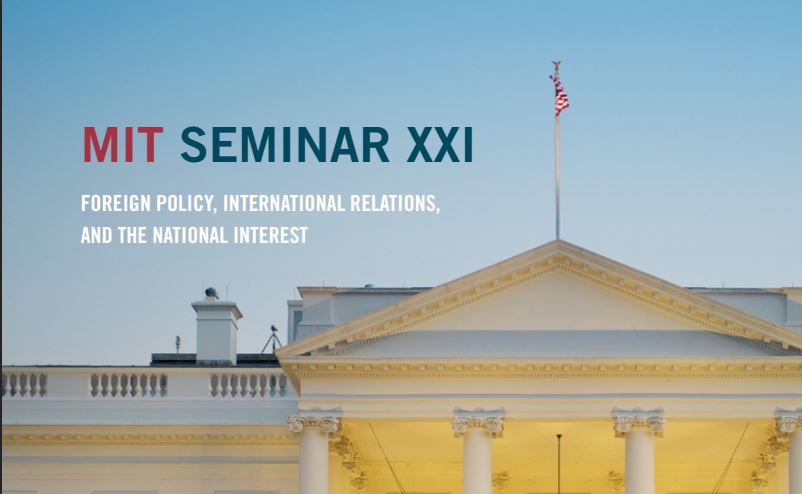 2019-20 ADMISSIONS WILL START FEBRUARY 2019
Download Admission Brochure PDF >
Email brochure to a friend >
2018–2019 SESSIONS
This year's sessions begin with an introduction from Professor Thomas Christensen and move into a range of topics that include Religion, Identity Politics and Civil Wars; Iran, Turkey, and Israel; Biosecurity and Cybersecurity; National Economies in a Globalized World; and more.
JOIN THE MIT DC CLUB

Sign up for year-round special events.
Become a member >
JOIN OUR LINKEDIN NETWORK
Seminar XXI Linkedin >