Kenneth Oye
Session Overview
Director, Program on Emerging Technologies, MIT
Kenneth Oye is a Professor of Political Science (School of Humanities Arts and Social Sciences) and Data Systems and Society (School of Engineering) and Director of the Program on Emerging Technologies (PoET), with work on international relations, political economy and technology policy.  His work in international relations includes Cooperation under Anarchy, Economic Discrimination and Political Exchange, and four "Eagle" monographs on American foreign policy, and advisory work for the Petersen Institute, UNIDO and US Treasury, Commerce and EXIM.  His work in technology policy has focused on adaptive management of risks associated with synthetic biology, pharmaceuticals, the internet and nuclear energy, with papers in Nature, Science, Clinical Pharmacology and Therapeutics, Politics and the Life Sciences and Issues in Science and Technology. Professor Oye is a faculty affiliate of the MIT Synthetic Biology Center, the Center for Biomedical Innovation, and the Internet Policy Research Initiative.  He chairs biosafety committees for iGEM and the Broad Institute Biofoundry and has served as an invited expert to the UN BWC, WHO, PCAST and NRC.  He is a recipient of the Levitan Award for Excellence in Teaching (2011), the Graduate Council Teaching Award (1998) and the Technology and Policy Program Faculty Appreciation Award (2003). Before coming to MIT, Professor Oye taught at Harvard University, the University of California, Princeton University and Swarthmore College.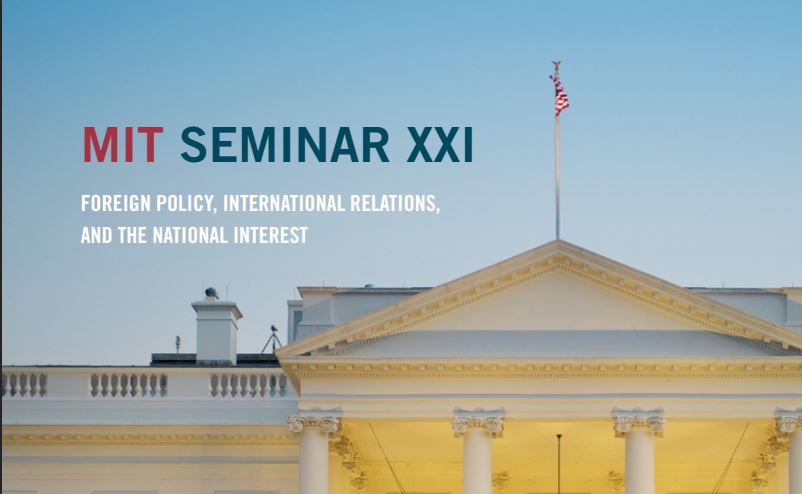 2019-20 ADMISSIONS WILL START FEBRUARY 2019
Download Admission Brochure PDF >
Email brochure to a friend >
2019 INTRODUCTORY SESSION & ALUMNI REUNION
All Seminar XXI Fellows & Alumni are invited to attend our opening session on Wednesday, Sept. 4, 2019. This year's event will feature a discussion on "The Weaponization of Social Media" by guest speaker, Peter W. Singer.
JOIN THE MIT DC CLUB

Sign up for year-round special events.
Become a member >
JOIN OUR LINKEDIN NETWORK
Seminar XXI Linkedin >