Keir Lieber
Session Overview
Associate Professor of Political Science, Georgetown University's Walsh School of Foreign Service
Keir Lieber is Associate Professor in the Edmund A. Walsh School of Foreign Service at Georgetown University, where he is a core faculty member of the Center for Security Studies and of the Security Studies Program. He also holds a joint appointment with the Department of Government. Lieber was recently named by the Carnegie Corporation of New York as one of the country's most innovative scholars. As a member of the inaugural class of Andrew Carnegie Fellows, he received a major research grant to support his project, "Nuclear Weapons and the New Era of Strategic Instability." Lieber's research and teaching interests include the causes of war; nuclear weapons, deterrence, and strategy; U.S. foreign policy; and international relations theory. He is author of War and the Engineers: The Primacy of Politics over Technology and editor of War, Peace, and International Political Realism. His articles have appeared in leading scholarly and foreign policy publications – most recently in International Security, Foreign Affairs, and the Atlantic Monthly. He is currently writing a book with Daryl Press (Dartmouth College) on nuclear weapons and international relations. Lieber has also been awarded fellowships from the Brookings Institution, Council on Foreign Relations, Earhart Foundation, MacArthur Foundation, Mellon Foundation, and Smith Richardson Foundation.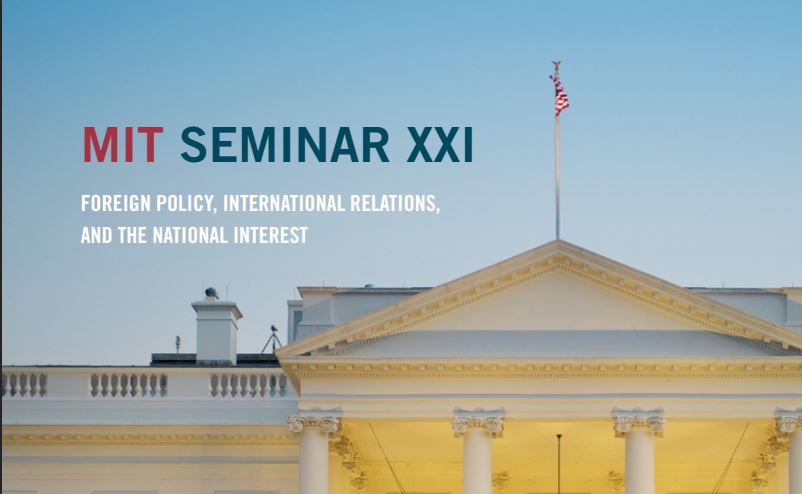 2019-20 ADMISSIONS WILL START FEBRUARY 2019
Download Admission Brochure PDF >
Email brochure to a friend >
2018–2019 SESSIONS
This year's sessions begin with an introduction from Professor Thomas Christensen and move into a range of topics that include Religion, Identity Politics and Civil Wars; Iran, Turkey, and Israel; Biosecurity and Cybersecurity; National Economies in a Globalized World; and more.
JOIN THE MIT DC CLUB

Sign up for year-round special events.
Become a member >
JOIN OUR LINKEDIN NETWORK
Seminar XXI Linkedin >