Francis Fukuyama
Session Overview

Senior Fellow, Freeman Spogli Institute for International Studies, Stanford University
Dr. Francis Fukuyama is Olivier Nomellini Senior Fellow at the Stanford University Freeman Spogli Institute for International Studies (FSI), resident in FSI's Center on Democracy, Development, and the Rule of Law. Dr. Fukuyama has written widely on issues in development and international politics. His book, The End of History and the Last Man, was published byFree Press in 1992 and has appeared in over twenty foreign editions. His most recent book, Political Order and Political Decay: From the Industrial Revolution to the Globalization of Democracy, was published in September 2014. Other books include America at the Crossroads: Democracy, Power, and the Neoconservative Legacy; Our Posthuman Future: Consequences of the Biotechnology Revolution; and Trust: The Social Virtues and the Creation of Prosperity. He was a member of the Political Science Department of the RAND Corporation, and of the Policy Planning Staff of the US Department of State. He previously taught at the Paul H. Nitze School of Advanced International Studies (SAIS) of Johns Hopkins University and at George Mason University's School of Public Policy. He served as a member of the President's Council on Bioethics from 2001-2004. Dr. Fukuyama is chairman of the editorial board of The American Interest, which he helped to found in 2005. He is a senior fellow at the Johns Hopkins SAIS Foreign Policy Institute, and a non-resident fellow at the Carnegie Endowment for International Peace and the Center for Global Development.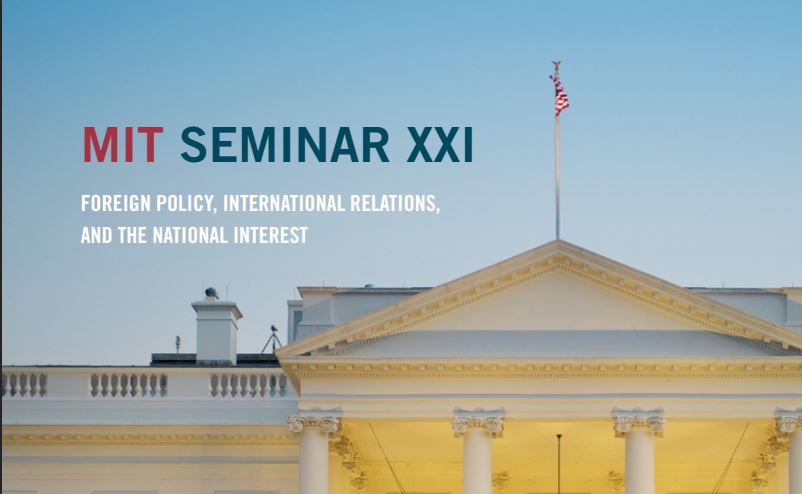 2019-20 ADMISSIONS WILL START FEBRUARY 2019
Download Admission Brochure PDF >
Email brochure to a friend >
2019 INTRODUCTORY SESSION & ALUMNI REUNION
All Seminar XXI Fellows & Alumni are invited to attend our opening session on Wednesday, Sept. 4, 2019. This year's event will feature a discussion on "The Weaponization of Social Media" by guest speaker, Peter W. Singer.
JOIN THE MIT DC CLUB

Sign up for year-round special events.
Become a member >
JOIN OUR LINKEDIN NETWORK
Seminar XXI Linkedin >