Caroline Hartzell
Session Overview

Professor of Political Science, Gettysburg College
Caroline Hartzell is a Professor in the Political Science Department at Gettysburg College. Her specialization is in international political economy with an emphasis on issues of conflict and conflict management, development, and globalization. Professor Hartzell's research focuses on cross-national civil war settlements and the effects institutions, both domestic and international, have on social conflict. She has published numerous journal articles on the effects that power-sharing settlements of civil wars have on the duration and quality of the peace, as well as co-authored and co-edited books on those topics. Professor Hartzell's research has been supported by the U.S. Institute of Peace, where she was a Jennings Randolph Senior Fellow, and grants from the National Science Foundation and Folke Bernadotte Academy to carry out survey research and experiments in Mindanao and Nepal. Hartzell's current research focuses on the effects peace settlements have on citizens' trust in government and citizens' attitudes regarding inclusive peace processes. Professor Hartzell is editor of the journal Conflict Management and Peace Science, the journal of the Peace Science Society (International) and a coordinator of the Citizens in Peace Processes (CIPP) research network.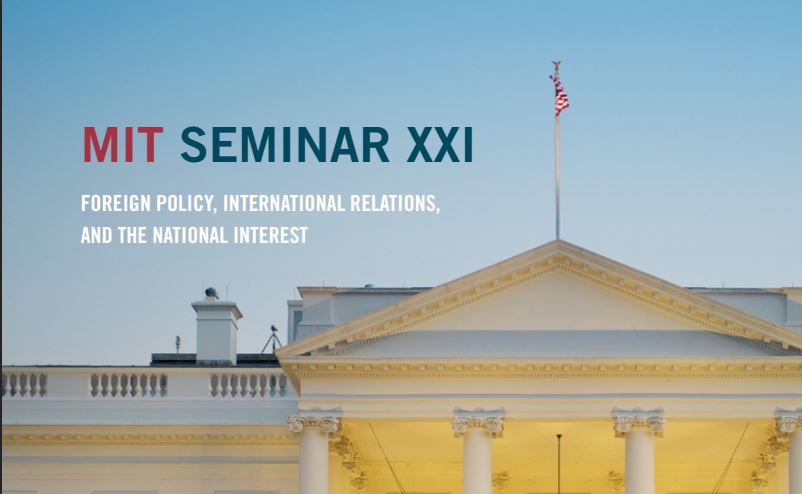 2019-20 ADMISSIONS WILL START FEBRUARY 2019
Download Admission Brochure PDF >
Email brochure to a friend >
2019 INTRODUCTORY SESSION & ALUMNI REUNION
All Seminar XXI Fellows & Alumni are invited to attend our opening session on Wednesday, Sept. 4, 2019. This year's event will feature a discussion on "The Weaponization of Social Media" by guest speaker, Peter W. Singer.
JOIN THE MIT DC CLUB

Sign up for year-round special events.
Become a member >
JOIN OUR LINKEDIN NETWORK
Seminar XXI Linkedin >