Alex de Waal
Session Overview
Executive Director, World Peace Foundation
Research Professor, Tufts University
Alex de Waal is Executive Director of the World Peace Foundation and a Research Professor at The Fletcher School at Tufts University. Considered one of the foremost experts on Sudan and the Horn of Africa, his scholarship and practice has also probed humanitarian crisis and response, human rights, HIV/AIDS and governance in Africa, and conflict and peacebuilding. Professor de Waal received a D.Phil. from Oxford for his thesis on the 1984-1985 Darfur famine in Sudan. He worked for several Africa-focused human rights organizations, focusing on the Horn of Africa, and especially on avenues to peaceful resolution of the second Sudanese Civil War. He also researched the intersection of HIV/AIDS, poverty and governance, and initiated the Commission on HIV/AIDS and Governance in Africa. De Waal was a fellow at the Global Equity Initiative at Harvard (2004-2006), and Program Director at the Social Science Research Council. He was a member of the African Union mediation team for Darfur (2005-2006) and senior adviser to the African Union High-Level Implementation Panel for Sudan (2009-2012). He was on the list of Foreign Policy's 100 most influential public intellectuals in 2008 and Atlantic Monthly's 27 "brave thinkers" in 2009. His most recent publications include Mass Starvation: The History and Future of Famine and The Real Politics of the Horn of Africa: Money, War and the Business of Power.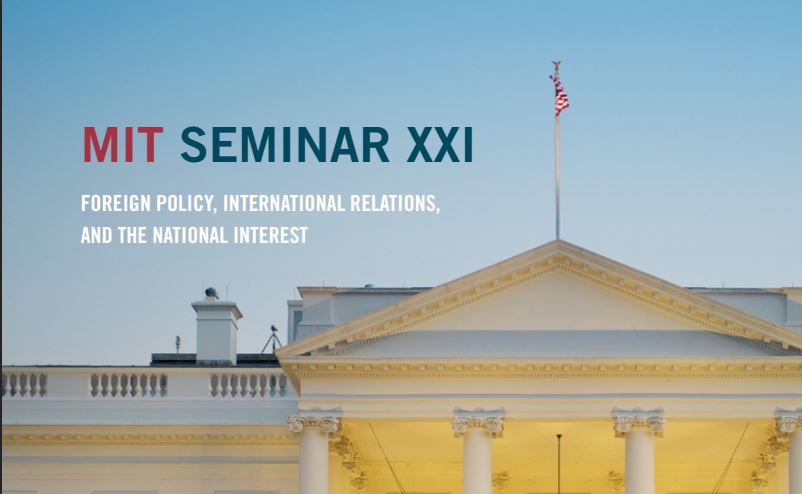 2019-20 ADMISSIONS WILL START FEBRUARY 2019
Download Admission Brochure PDF >
Email brochure to a friend >
2019 INTRODUCTORY SESSION & ALUMNI REUNION
All Seminar XXI Fellows & Alumni are invited to attend our opening session on Wednesday, Sept. 4, 2019. This year's event will feature a discussion on "The Weaponization of Social Media" by guest speaker, Peter W. Singer.
JOIN THE MIT DC CLUB

Sign up for year-round special events.
Become a member >
JOIN OUR LINKEDIN NETWORK
Seminar XXI Linkedin >