Bruce Hoffman
Session Overview
Professor of International Relations, Georgetown University
Bruce Hoffman is currently Director of the Center for Security Studies, Director of the Security Studies Program, and a tenured professor at Georgetown University's Edmund A. Walsh School of Foreign Service, Washington, DC. Professor Hoffman previously held the Corporate Chair in Counterterrorism and Counterinsurgency at the RAND Corporation and was also Director of RAND's Washington, D.C. Office. From 2001 to 2004, he served as RAND's Vice President for External Affairs and in 2004 he also was Acting Director of RAND's Center for Middle East Public Policy. He was recently appointed by the U.S. Congress to serve as a commissioner on the Independent Commission to Review the FBI's Post-9/11 Response to Terrorism and Radicalization. Professor Hoffman is a Global Scholar at the Woodrow Wilson International Center for Scholars, Washington, D.C.; a Senior Fellow at the Combating Terrorism Center, U.S. Military Academy, West Point, NY; a Visiting Professor at the Institute for Counter-Terrorism, Interdisciplinary Center, Herzliya, Israel; and, a Visiting Professor at the Handa Centre for the Study of Terrorism and Political Violence at the University of St Andrews, Scotland. He is also a contributing editor to The National Interest and Editor-in-Chief of Studies in Conflict and Terrorism, the leading scholarly journal in the field. His recent publications include Inside Terrorism; The Evolving Global Terrorist Threat: Cases From 9/11 to Osama bin Laden's Death; and Anonymous Soldiers: The Struggle for Israel, 1917-1947.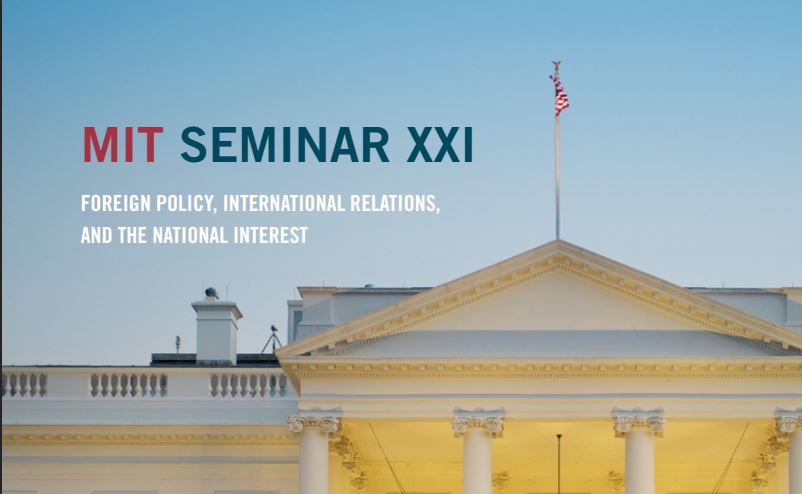 2019-20 ADMISSIONS WILL START FEBRUARY 2019
Download Admission Brochure PDF >
Email brochure to a friend >
2018–2019 SESSIONS
This year's sessions begin with an introduction from Professor Thomas Christensen and move into a range of topics that include Religion, Identity Politics and Civil Wars; Iran, Turkey, and Israel; Biosecurity and Cybersecurity; National Economies in a Globalized World; and more.
JOIN THE MIT DC CLUB

Sign up for year-round special events.
Become a member >
JOIN OUR LINKEDIN NETWORK
Seminar XXI Linkedin >