Bruce Hoffman
Session Overview
Professor of International Relations, Georgetown University
Bruce Hoffman has been studying terrorism and insurgency for over four decades. He is a professor at Georgetown University's Walsh School of Foreign Service and also the Shelby Cullom and Kathryn W. Davis Visiting Senior Fellow for Counterterrorism and Homeland Security at the Council on Foreign Relations, and the George H. Gilmore Senior Fellow at the U.S. Military Academy's Combating Terrorism Center. Hoffman previously held the Corporate Chair in Counterterrorism and Counterinsurgency at the RAND Corporation and co-founded and was the first director of St Andrews University's Centre for the Study of Terrorism and Political Violence, where he is currently visiting Professor of Terrorism Studies. Hoffman was appointed a commissioner on the 9/11 Review Commission by the U.S. Congress and has been Scholar-in-Residence for Counterterrorism at the Central Intelligence Agency; adviser on counterterrorism to the Coalition Provisional Authority, Baghdad, Iraq; and, adviser on counterinsurgency to Multi-National Forces-Iraq Headquarters, Baghdad, Iraq. He is a recipient of the United States Intelligence Community Seal Medallion, the highest level of commendation given to a non-government employee, and the author of the award-winning book, Anonymous Soldiers (2015). Hoffman's most recent books include Inside Terrorism (3rd edition, 2017) and, The Evolution of the Global Terrorist Threat (2014). He holds degrees in government, history, and international relations and received his doctorate from Oxford University.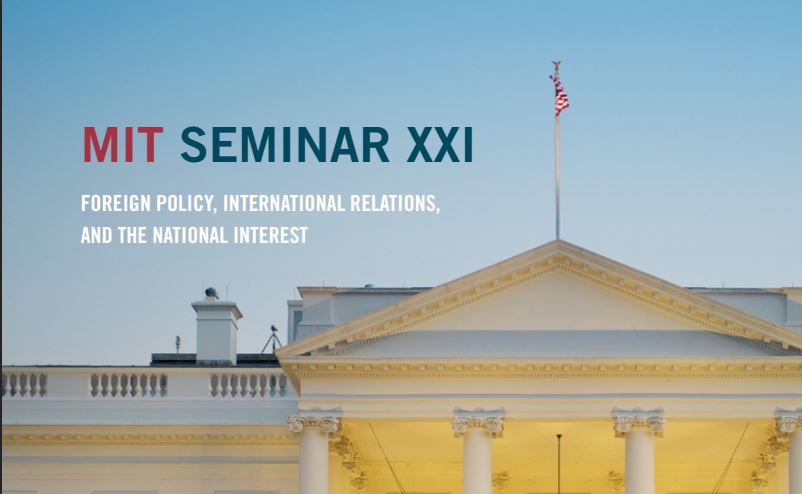 2019-20 ADMISSIONS WILL START FEBRUARY 2019
Download Admission Brochure PDF >
Email brochure to a friend >
2019 INTRODUCTORY SESSION & ALUMNI REUNION
All Seminar XXI Fellows & Alumni are invited to attend our opening session on Wednesday, Sept. 4, 2019. This year's event will feature a discussion on "The Weaponization of Social Media" by guest speaker, Peter W. Singer.
JOIN THE MIT DC CLUB

Sign up for year-round special events.
Become a member >
JOIN OUR LINKEDIN NETWORK
Seminar XXI Linkedin >