Andrew Moravcsik
Session Overview
Professor of Politics, Princeton University
Director, European Union Program, Princeton University
Andrew Moravcsik is Professor of Politics and Director of the European Union Program at Princeton University. He has authored over 125 scholarly publications, including four books, on European integration, international relations theory, qualitative/historical methods, human rights, international law and organization, and other topics. His history of the European Union, The Choice for Europe, has been called "the most important work in the field" (American Historical Review). The National Science, Ford, Fulbright, Olin and Krupp Foundations, as well as various universities and institutes, have supported his research. In 2011, he won the Stanley Kelley Award for Undergraduate Teaching from Princeton University. He has served as trade negotiator for the US Government, special assistant to the Deputy Prime Minister of the Republic of Korea, press assistant for the European Commission, and on various policy commissions. He has published over 100 commentaries and policy analyses, currently serves as Book Review Editor (Europe) at Foreign Affairs, and was formerly Contributing Editor at Newsweek and Editor-in-Chief at a Washington foreign policy journal. Since 2004 he has been a Non-Resident Senior Fellow of the Brookings Institution, and has been at various times a long-term visitor at research institutes in France, Italy, Britain, the US and China.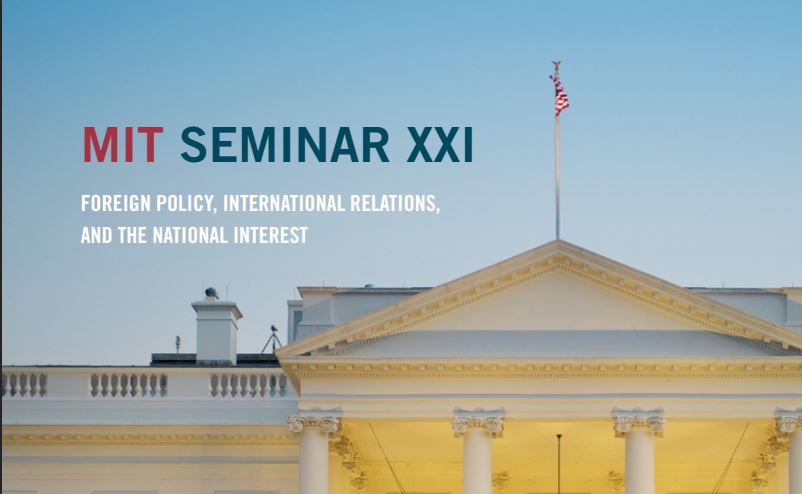 2019-20 ADMISSIONS WILL START FEBRUARY 2019
Download Admission Brochure PDF >
Email brochure to a friend >
2018–2019 SESSIONS
This year's sessions begin with an introduction from Professor Thomas Christensen and move into a range of topics that include Religion, Identity Politics and Civil Wars; Iran, Turkey, and Israel; Biosecurity and Cybersecurity; National Economies in a Globalized World; and more.
JOIN THE MIT DC CLUB

Sign up for year-round special events.
Become a member >
JOIN OUR LINKEDIN NETWORK
Seminar XXI Linkedin >