Kimberly Elliott
Session Overview

Fellow, Center for Global Development
Visiting Scholar, George Washington University
Kimberly Ann Elliott is a Nonresident Fellow with the Center for Global Development and a Visiting Scholar with the Institute for International Economic Policy at George Washington University. She is the author or co-author of numerous books and articles on trade policy and globalization, economic sanctions, and food security. Her most recent book is Global Agriculture and the American Farmer: Opportunities for U.S. Leadership (2017), a follow on to Delivering on Doha: Farm Trade and the Poor (2006). Her co-authored publications include Economic Sanctions Reconsidered, Can Labor Standards Improve under Globalization, and Reciprocity and Retaliation in U.S. Trade Policy. She is a member of the US Department of Labor's National Advisory Committee for Labor Provisions in US Free Trade Agreements and has served on a number of official advisory committees, including the State Department's Working Group on Economic Sanctions, the National Research Council committee on Monitoring International Labor Standards, and the USDA Consultative Group on the Elimination of Child Labor in US Agricultural Imports. She has an MA, with distinction, from the Johns Hopkins University School of Advanced International Studies and, in 2004, Austin College named her a Distinguished Alumna.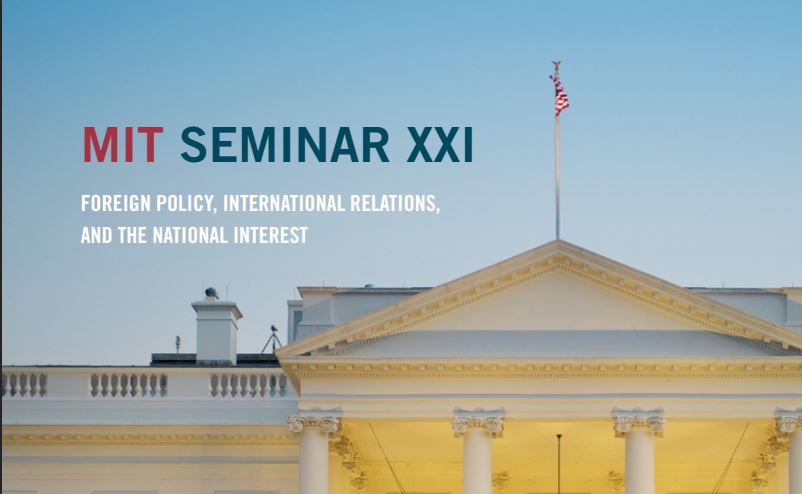 2019-20 ADMISSIONS WILL START FEBRUARY 2019
Download Admission Brochure PDF >
Email brochure to a friend >
2019 INTRODUCTORY SESSION & ALUMNI REUNION
All Seminar XXI Fellows & Alumni are invited to attend our opening session on Wednesday, Sept. 4, 2019. This year's event will feature a discussion on "The Weaponization of Social Media" by guest speaker, Peter W. Singer.
JOIN THE MIT DC CLUB

Sign up for year-round special events.
Become a member >
JOIN OUR LINKEDIN NETWORK
Seminar XXI Linkedin >