Kimberly Elliott
Session Overview

Visiting Fellow, Center for Global Development
Kimberly Ann Elliott is a Visiting Fellow with the Center for Global Development and the author or co-author of numerous books and articles on trade policy and globalization, economic sanctions, and food security. In 2009-10 she chaired the CGD working group that produced the report, Open Markets for the Poorest Countries: Trade Preferences that Work, and before that, authored the book Delivering on Doha: Farm Trade and the Poor. Elliott was with the Peterson Institute for many years before joining the Center full-time. Her books published there include Can International Labor Standards Improve under Globalization?; Corruption and the Global Economy; Reciprocity and Retaliation in US Trade Policy; Measuring the Costs of Protection in the United States; and Economic Sanctions Reconsidered. She served on a National Research Council committee on Monitoring International Labor Standards and on the USDA Consultative Group on the Elimination of Child Labor in US Agricultural Imports, and is currently a member of the National Advisory Committee for Labor Provisions in US Free Trade Agreements.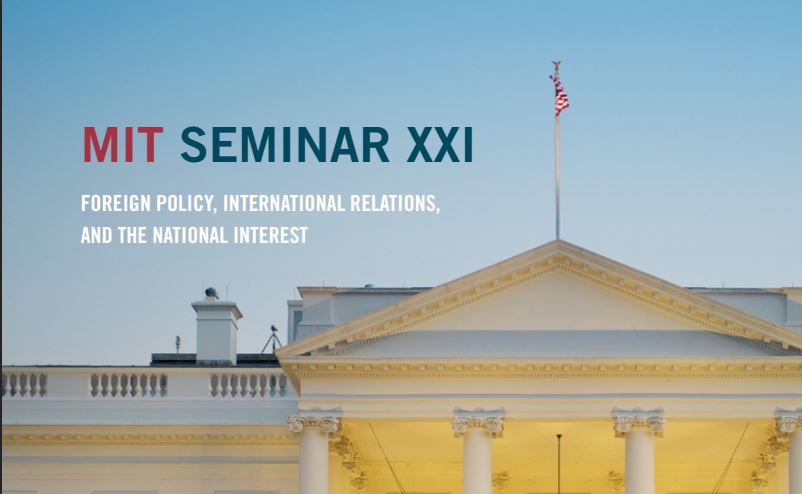 2019-20 ADMISSIONS WILL START FEBRUARY 2019
Download Admission Brochure PDF >
Email brochure to a friend >
2018–2019 SESSIONS
This year's sessions begin with an introduction from Professor Thomas Christensen and move into a range of topics that include Religion, Identity Politics and Civil Wars; Iran, Turkey, and Israel; Biosecurity and Cybersecurity; National Economies in a Globalized World; and more.
JOIN THE MIT DC CLUB

Sign up for year-round special events.
Become a member >
JOIN OUR LINKEDIN NETWORK
Seminar XXI Linkedin >