Class of 2021
Session Overview
Program Director and Staff
Program Director: Ken Oye
Program Executive Director: Tisha Gomes Voss
Program Assistant: Jennifer Kempe
Research Assistant: Rachel Tecott
Senior Advisors: Jake Stewart, Mitzi Wertheim
| Session Date | | Participating Faculty |
| --- | --- | --- |
| September 8, 2020 | Introductory Session (Virtual Meeting) | Richard Clarke |
| October 3, 2020 | Disintegration: Ethnic, Religious & Ideational Identities, & Conflict (Virtual Meeting) | Scott Appleby, Aleksa Djilas, Page Fortna, Ron Hassner, Ram Manikkalingam, Zoe Marks, James Millward, Melissa Nobles, Kenneth Oye, Gerard Prunier, Emma Sky, Stephen Van Evera |
| October 19, 2020 | Liberalism, Realism and Interstate Conflict with reference to US-China Relations (Virtual Meeting) | John Mearsheimer, Andrew Moravcsik |
| November 2, 2020 | Iran, Turkey & Israel (Virtual Meeting) | Suzanne Maloney, Nathan Sachs, Ömer Taşpınar |
| November 17, 2020 | Democratization & Authoritarianism in the Arab World (Virtual Meeting) | Eva Bellin, Gregory Gause |
| December 3, 2020 | Health (Virtual Meeting) | Nancy Connell, Gigi Gronvall, Murray Lumpkin |
| December 15, 2020 | Climate Change (Virtual Meeting) | John Deutch, David Keith, Janos Pasztor, Maria Zuber |
| January 5, 2021 | Cybersecurity & Biosecurity (Potential On-Site Meeting) | R. David Edelman, Kenneth Oye, Edward You |
| January 29, 2021 | National Economies in a Globalizing World (Potential On-Site Meeting) | Rawi Abdelal, Sarah Chayes, Alex de Waal, Kimberly Elliott, Josef Joffe, Jomo Kwame Sundaram, Andrew Natsios, Kenneth Oye, Adam Segal, Luis Videgaray |
| March 2, 2021 | Japan, Europe & South Korea: US Allies Forever? (Potential On-Site Meeting) | Victor Cha, Jolyon Howorth, Richard Samuels |
| March 16, 2021 | Latin America (Potential On-Site Meeting) | Matthew Carnes, Stephen Kaplan |
| April 6, 2021 | Nuclear Politics (Potential On-Site Meeting) | Vipin Narang, Caitlin Talmadge, Jim Walsh |
| April 30, 2021 | US National Security Policy (Potential On-Site Meeting) | Taylor Fravel, Sumit Ganguly, Bruce Hoffman, Jonathan Kirshner, Andrey Kortunov, Keir Lieber, Barry Posen, Daryl Press |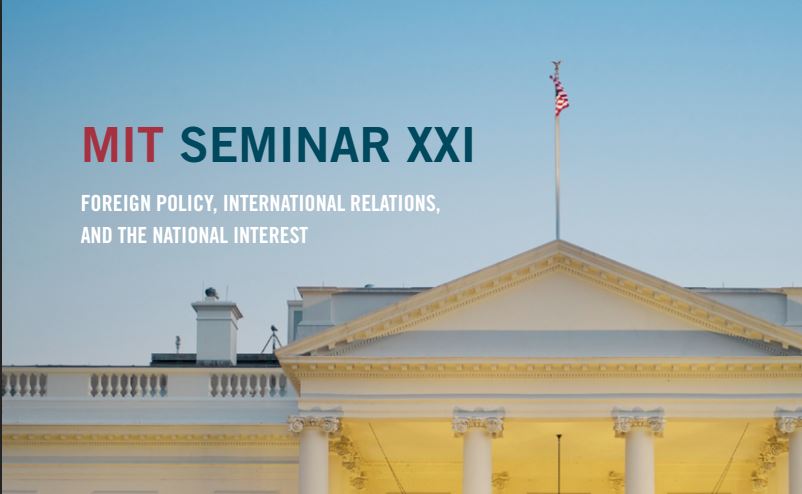 2021-22 ADMISSIONS WILL START FEBRUARY 2021
Download Admission Brochure PDF >
Email brochure to a friend >
25TH ANNIVERSARY VIDEO
Hear past and present organizers reflect on over 25 years of the Seminar XXI Program and its impact on the national security policy community.
JOIN THE VIRTUAL OPENING SESSION
This year's Introductory Session & Alumni Reunion will be a Virtual Meeting on Tuesday, Sept. 8, 2020 from 5-9pm EDT. All current fellows and alumni are welcome to join.
JOIN OUR LINKEDIN NETWORK
Seminar XXI Linkedin >